FHOPE Wire wrapping machine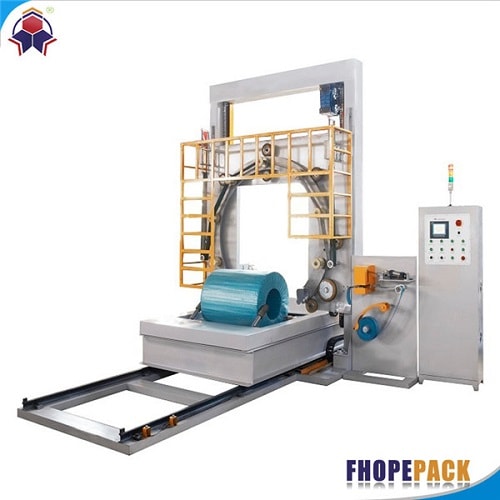 More information:  https://www.fhopepack.com
Fhope, as the leader of coil packaging industry, provides high-quality machines to help your packaging process. We combine your needs and rich experience to provide each customer with unique services. Coil data and specifications are manually entered into the control center and system. This parameter contains the following information:
• outside diameter of coil
• ID of the coil
• coil width
• weight of coil
• required packing speed
• necessary packaging layers
• the customer identification number PLC and HMI help the machine run automatically, and the user can easily control and modify the information through the control system. All errors will be displayed on the interface, so that the user can see the progress more clearly. Fhope has rich experience and good reputation in designing and manufacturing various coil compression, winding and binding packaging machines. We provide different solutions for different customers to meet their special and unique requirements through pet or steel strapping, logo tapping, weighing, stacking… All types of machines will provide our customers with clean and perfect packaging. We also provide semi-automatic and fully automatic options for our customers. High efficiency and cost-effectiveness will save power and material costs.
Characteristic:
1. Automatic and semi-automatic operation modes for different operations.
2. Film, paper, HDPE Is available.
3. Wear resistant polyurethane active and passive friction wheel and integral mold structure equipment are used for anti-skid and safety, making the packing object more stable and tidy.
4. Different packaging materials can be used: woven tape, carbon paper, crepe paper, non-woven fabric, sack cloth, stretch film, PE film, LLDPE film, hldpe film, etc.
5. According to the coil specification, the ring center height can be changed.
6. The degree of overlap and tension of packaging materials can be adjusted according to the needs of customers.
7. Manipulator can be used for automatic feeding and cutting packaging materials.
8. The detachable device is optional, which is more convenient and convenient for coil packing.
9. The labeling device and the side pressing roller can be used according to the customer's requirements and the characteristics of the packaging coil.
10. Special cutter and cylinder, can cut all kinds of packing materials. Note: it can be designed according to your requirements.
This machine is suitable for any special requirement and any size of steel wire ring. The crane will facilitate the operation of the load coil and the operation will remain stationary. The supporting equipment also includes C-hook and mobile turning gear. The coiling materials will be taken to the station by winding wheel or coiler. The machine moves back and forth and the limited sensors attached to the package will be used to manage the positioning. It can also be placed on the floor track, allowing the machine to move several packaging stations. We also combine supporting rollers with packing stations, which can be fixed or moved by trucks.