How to find hose packing machine solutions
There are several type hose packing solution avalable from the market.
The ring type coil wrapping machine is the most popular one, but some market prefer to the coil covering packaging.
Following are some hose packing solution per different packaging goal:
1.- for small and light hose coil packing weight:<5Kg
2. for big OD hose coil packing
It is a horizontal type coil wrapping machine that works for big size hose coil, which can be OD:1500mm
Vertical type coil packing machine that is for coil loading floor level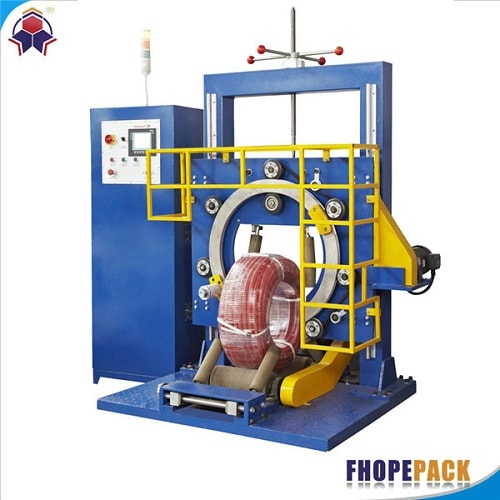 3. Automatic hose and pipe coil packing line

The packing line is for autoamtic hose coil loading, positioning, wrapping and out feeding.
Some solution enquiry:
We are looking to place an order for another wrapping machine to suit the coils below. The yellow highlighted items is the main aim for the machine but ideally would be able to run both the yellow and blue highlighted items.
| | | | | | | | |
| --- | --- | --- | --- | --- | --- | --- | --- |
| DN | Kg/m | Coil weight kg | Coil Metres | Coil ID | Coil Width | Coil OD | Line speed (coils per hour) |
| 50 | 0.22 | 2.2 | 10 | 180 | 225 | 453 | 120 |
| 50 | 0.22 | 4.4 | 20 | 180 | 275 | 540 | 60 |
| 65 | 0.26 | 2.6 | 10 | 200 | 227.5 | 555 | 120 |
| 65 | 0.26 | 5.2 | 20 | 200 | 292.5 | 668 | 60 |
| 80 | 0.305 | 6.1 | 20 | 350 | 360 | 787 | 21 |
| 100 | 0.4 | 4 | 10 | 400 | 350 | 773 | 78 |
| 100 | 0.4 | 8 | 20 | 350 | 400 | 896 | 39 |
Best Regards